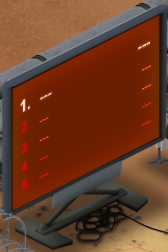 PVP (player VS player) is possible is marked Pit Fighting areas. There are a few of these, each permitting players to fight with others at specific level ranges. The lowest level one is in Pirate Bay. There is also a pit in the Desert Area (called "The Pit", Levels 11 to 15), one in "Alloy Plaza" (Levels 15 to 20), and one that's usable by all levels, called Maze Pit. (See Areas for their locations).
Scoreboards near the arenas keep record of the best fighters.
While currently PVP exists just for fun, there are rumors of PVP awarded items coming in the future.
There is a PVP clan in Pirate Bay called Lvl 7 which is the maximum level permitted into the Pirate Bay Pit.